The bundling feature is supported in Sitecore XC version 9.0.3 and later.
Sitecore XC enables you to manage all aspects of the order life cycle, payment and fulfillment options, managing items in pending orders, and managing RMAs (Return Merchandise Authorizations) and refunds.
Orders are integrated with customer information. When you view a customer's account information, a list of the customer's orders is shown. Clicking an order number takes you to the details of the order.
A Customer Service Representative (CSR) or Customer Service Representative Administrator can perform the following tasks on an order:
View order details, including the date the order was made, grand totals, payment totals including any pending amounts, and payment types.

Process returns and RMAs.

Return merchandise authorization requests are not supported for bundles.

List the entitlement sellable items that are associated with an order, including any disabled or canceled entitlements, such as a subscription service the customer canceled.

Add new items, edit item amounts, or delete items for pending orders.

Release an order from an on-hold status, undo changes to an order that is on hold, cancel an order, or set the fulfillment on an order.
The following diagram shows how an order progresses from the pending status to the completed status without user intervention.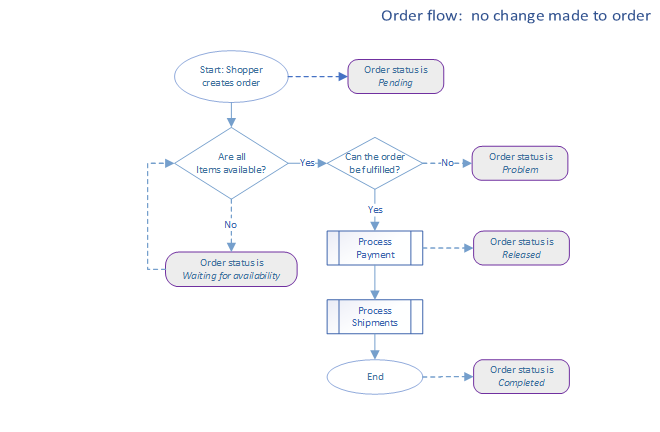 The changer order process flow
The following diagram shows how an order progresses when a customer service representative (CSR) puts the order on hold to make a change or to cancel the order.