Focus on integration
Abstract
You can integrate Sitecore products with third-party applications to share information. This sharing of data provides more flexibility, features, and operations.
Sitecore Content Hub assists you as you take charge of your entire content lifecycle with a single, streamlined integration of all your content touchpoints. Integrations connect your software to third-party applications so they can share information. This sharing of data provides more flexibility, features, and options. You can use Content Hub's powerful integrations to collaboratively create, manage, publish, search, and track your marketing content.
When integrating with existing systems, there is a difference between systems that aggregate data, called Upstream platforms, and systems that receive data, called Downstream platforms.
Upstream platforms
Upstream platforms are software that aggregate data. These platforms are typically higher in the marketing process, such as ERP systems, PLM, PCM and PIM systems, workflow, cycle planning, campaign management, MRM solutions, and so on.
Downstream platforms
Downstream platforms are software that publishes and analyzes data and assets from upstream systems with their data consolidated and enriched in Content Hub. Creating and pushing social content is a common requirement for many marketing teams.
Sample integrations include social media channels (Twitter, Facebook, YouTube, and others), Sitecore Experience Manager and Sitecore Experience Platform, Drupal, WordPress, Hybris, SharePoint, and so on.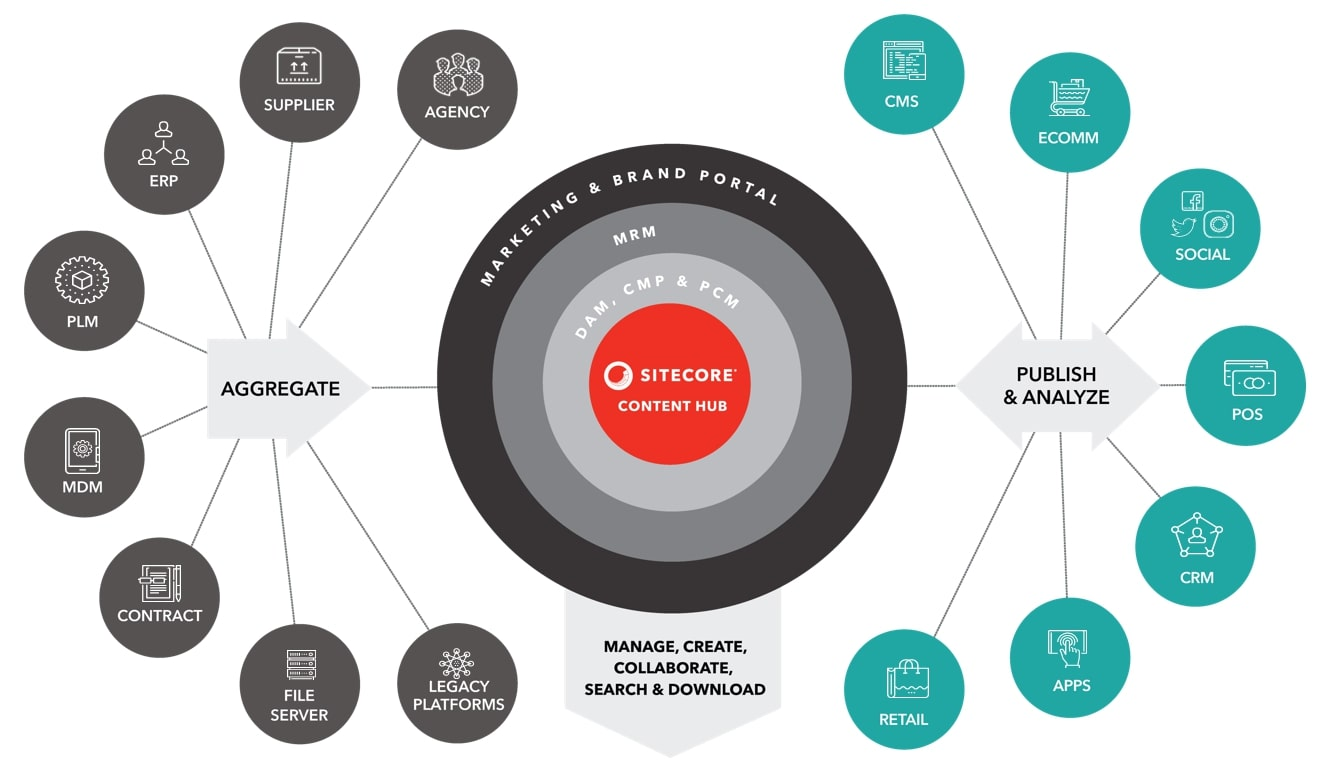 Content Hub connectors are prepackaged integration products that deliver out-of-the-box functionality so you benefit from the integration immediately. They also allow for customization to fit your specific needs.
Each connector is built on a framework that provides a blueprint for delivering data and functionality to Content Hub. This ensures Content Hub connectors are not custom-developed, one-off integrations, but are highly usable, consistent, maintainable, and upgradable.
Content Hub also offers two generic connectors. The REST API and Web Client SDK enable the further extension and integration of Content Hub with other applications.
Sitecore connectors
APIs and SDKs
Extension points